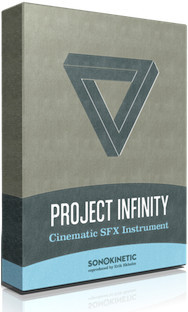 Sonokinetic has announced Project Infinity, a cinematic sound effect instrument library for Native Instruments Kontakt.
For this new adventure Sonokinetic is leaping forward onto new territory within the Sonokinetic Sampling realm.

Cinematic sound effects, ambiences and spheres, big booms, crashes and swooshes, kinetic rhythmic drones and crackles, you name it, it's probably in there. In Project Infinity, intelligent sound design is combined with a composer's view on producing music for film and game environments. We're proud to present this gigantic collection of sounds built into one ingeniously crafted Kontakt instrument.
Project Infinity features
Monolith patch spanning thousands of cinematic FX samples in 5 Main categories: Atmospheres, Loops, Pads, Processed, Spheres.
12 customizable and mappable FX to twist and distort the sounds to your liking.
10 preset instruments:Awesome Impacts,Beam Me Up,Data Stream,Deepest Depths,Gates Of Hell and many more.
Build your own instruments in Kontakt. Control the mapping and velocity ranges of up to 10 layers of sounds.
Design and construct your own user interfaces giving you quick access to your most-needed parameters and properties. Tweak quicker than ever!
2900+ samples. (7,48 GB sample content)
Royalty and copyright free content license.
Project Infinity Reference manual (pdf).
Artwork : "Project Infinity" dvd cover. Designed by Pavel Fuksa
Programming: "Project Infinity" Kontakt script and instruments by Blake Robinson
Video tutorials. Hosted by Blake Robinson
Patch auditing. Various patches briefly reviewed
Technical tour: Creating and editing layers, FX and UIs
Format: All files in 44.1 kHz, 16bit wav format. Programmed for Kontakt 4.2.3.
Project Infinity is available to purchase for €99.90 EUR.
More information: Sonokinetik