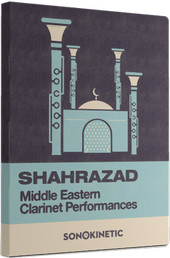 Sonokinetic has announced Shahrazad, a collection of Middle Eastern clarinet performances and legato patches for Native Instruments Kontakt.
We set a goal to capture the same mystic musical quality from the middle eastern musical heritage as represented in 'Voices of Israel' and 'Desert Voice'. The Turkish clarinet is the ideal supplement to the aforementioned; a very versatile and vocalic melody instrument that reflects the microtonal system. The beautiful and mystic character of this sound will capture the imagination of your audience and take them on a 1001 nights journey or fly them through a land of fables and myths in a way that is unmatched in any other woodwind performance sample collection.
Shahrazad features
Base samples: 1 instrument patch containing the following styles:

5 makam phrase articulations.
One sustain patch.
One authentic legato instrument with recorded intervals.

Single instrument for Kontakt 4.2.3 and higher with 4 panels – Main, IR, EQ & Credits.
Convolution reverb applied to the multi instrument to represent the original acoustic space.
Sonokinetic IR space design knob to allow dynamic assignment and configuration of the convolution effects.
Dynamic sample loading & purging for efficient memory usage.
Customisable keyswitching system to allow command of articulations in your compositions.
Visual representation of current key when playing phrases.
Shahrazad Reference manual (pdf).
Artwork : "Shahrazad" dvd cover. Designed by Pavel Fuksa.
Artwork : "Shahrazad" UI art designed by Tomek Maronski.
Programming : "Shahrazad" Kontakt script and instruments by Blake Robinson.
Video tutorials. Hosted by Blake Robinson

Patch auditing. Each patch briefly reviewed.
Technical tour of the interface.

Format: All files in 48 kHz, 24bit mono aif format.
Total size 6.44GB, total amount of samples: 4901 samples.
Shahrazad for Kontakt 4.2.3 is available to purchase for 49.90 EUR.
More information: Sonokinetic / Shahrazad