Sonokinetic has released Toccata, a pipe organ sample library for Native Instruments Kontakt.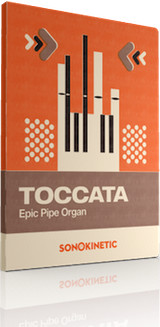 Sonokinetic presents "Toccata". The largest and most epic instrument of all! This instrument will literary blow you out of your socks. Weighing over 1 ton, constructed from over 1500 pipes, it has inspired the best composers for centuries. From J.S Bach to H. Zimmer all composers have been captured by the sheer power and intoxicating volume and tone colours of the pipe organ.

This collection of clean recorded pipe organ samples has been intensively tuned and tweaked and de-noised to the utmost extent. Now working like a Swiss watch, this instrument will give you a wide range of colouring options due to its ingenious programming of 20 registers for the Kontakt sampling engine. Recorded at the Bartholomeus Basilika in The Netherlands this library will bring the raw power of this massive pipe organ to your keyboard.
Toccata features
Core samples: 1 pipe organ. 20 registers (sustains & release samples) + 4 IR samples
1 multi instrument for Kontakt 4.1.1 with 3 tab screens – Main View, Convolution, and a credits ta-Convolution reverb applied to the multi instrument to represent the original acoustic space.
4 rooms available
Sonokinetic clickable IR sphere design knob
Midi routing for three manuals
Keyswitches for activating single registers or tutti groups
1750+ samples. (1,05 GB sample content)
20 recorded pipe organ registers. The most commonly used registers for custom mixture combinations: Prinzipal 16′, Gedeckt 8′, Prinzipal 8′, Gemshorn 4′, Trompete 8′, Klarinet 4′, Tutti registers, Holzgedeckt 8′, Prestant 4′, Holzrohrflöte 4′, Schwiegel 2′, Cymbel 1′ 3 st, Krummhorn 8′, Prinzipalbaß 16′, Violonbaß 16′, Subbaß 16′, Praestant 8′, Gedeckt 8′, Choralbaß 4′, Posaune 16′
Tutti register. Recorded with all registers opened. To Activate press the Tutti button on the Organ in the middle of the instrument main view tab or the sustain pedal.
Midirouting: To spread all registers over multiple keyboards the multi instrument has a midi routing system on top the instrument panels. "link to lower" adds the pedal registers to the keyboard. To access the pedal registers activate this button.
Each register has its own acoustically optimized release trigger for a perfect noise free realistic and authentic tone characterization.
4 impulse responses: 24 bit wave format. Chapel, Basilika, Large Dome, and Mosque (From the Tigris & Euphrates Collection).
Custom designed interface.
Interface installers for Mac, PC and manual instructions.
Royalty and copyright free content license.
Toccata Reference document (PDF).
Register & Mixture Reference document (PDF).
Historical and Musical Origins, Reference (pdf). "A historical view on fairground organs".
Artwork: "Toccata" dvd cover. Designed by Pavel Fuksa.
5 Demos from JB Organ works.
Toccata for Kontakt is available to purchase for 39.90 EUR.
More information: Sonokinetic / Toccata