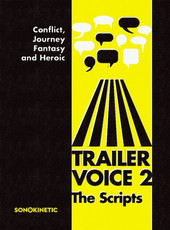 Sonokinetic has released Trailer Voice 2 – The Scripts, a collection of powerful, dramatic and authentic voice-over cues.
No where will you find a better selection of pre-recorded Movie Trailer style cues for your next project. Trailer Voice 2 was written by an award winning professional screenwriter and recorded by 4 amazingly talented, trained and highly experienced Voice-Over Artists. This is truly a one of a kind collection!

This one of a kind project deepens and expands on the original collection of Trailer Voice with this totally new collection called "The Scripts". Trailer Voice 2 "The Scripts" will expand your cinematic experience or any project you are working on. This production covers four dramatic themes that will provide you spine chilling and produced generic recordings with a variety of emotion and feeling.
Trailer Voice 2 – The Scripts features
Total of 3300+ sfx (1,19GB unzipped) in 44.1 kHz/24-bit mono wave files.
4 voices: 3 male, 1 female.
Vocal Colours: Attitude, Booming, Dangerous, Announcer, Deep, Gravelly, Wry, Sexy, Sophisticated, Warm, Attitude, Authoritative, Believable.
4 themes: Journey, Heroic, Fantasy and Conflict (each containing 10 stories, edited into smaller sections: sentences and phrases).
3 different reads per story for each voice and each style.
TOTAL of: 4 themes X 4 Voices X 10 stories X 3 Reads X (*x) sentences.
Trailer Voice Browser: for quick searching and browsing this huge collection. Basic searches can be done based on words, letters, numbers, themes and voices types. (html based database script) tv2browser.
Trailer Voice2 The Scripts Script. The male and female script produced by Paul Bassett Davies. (.pdf)
A license and agreement on the royalty free samples (.pdf)
The impulse response from the Sonokinetic Recording stage for Logic Pro Spacedesigner.
High resolution Art work for the "Trailer Voice 2 The Scripts" dvd cover art.
Trailer Voice 2 – The Scripts is available to purchase for 39.90 EUR.
More information: Sonokinetic / Trailer Voice 2 – The Scripts