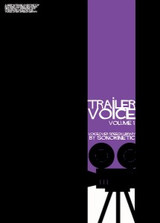 Sonokinetic has released Trailer Voice, a sample library featuring a collection of generic and catchy quotes and phrases.
We're proud to present, Voice over cues for promos, trailers, event introductions, dvd and cd presentations, sports events, launches, epic entries, teasers, world premiers, song enhancement and more impressive narrative moments.

If you need to make an impact. Want to blow your audience away. Make an everlasting impression on your clients, sweep all your competitors of their feet. Or simply blow a whole in the theaters roof. You should add some of the "Trailer Voice" by Sonokinetic to your productions.
Trailer Voice features
3 Voices; 2 male , 1 female.
400+ original quotes , cues, words, phrases and sentences. Easy to use and with a wide range generality.
Each take has been recorded in at least 2 versions up to 8 takes to give you a broad range of interpretations to choose from.
5 vocal styles (divided over the voices). Trailer Style, Mystical, Casual, Amusing and Authoritative epic.
Each vocal samples folder is provided into two mix settings. Dry and Wet.
With over 10.000 voice over samples making this the most affordable and dedicated voice over library out there.
The "Trailer Voice Manual" .pdf.
"The Voice Of God" tutorial. A walkthrough on creating a subbass deep Godlike voice in Logic Pro.
Bonus folder (inside the Tutorial) with edited voice over cues from Jasen into the "Voice Of God". (Logic Pro file and pdf).
Trailer Voice scripts. The male and female script produced by Sonokinetic. (.pdf).
A license and agreement on the royalty free samples (.pdf).
The impulse response from the Sonokinetic Recording stage for Logic Pro Spacedesigner.
High resolution Art work for the "Trailer Voice" dvd.
All files in 44.1 kHz , 24 Bit wave format.
All samples are organized into folders and named alphabetically.
Each file contains information about the style, text, recording take and mix setting.
Trailer Voice is available to purchase for the introductory price of 29.90 EUR (regular price 34.90 EUR).
More information: Sonokinetic / Trailer Voice