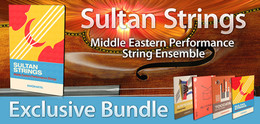 Time+Space has announced the availability of Sonokinetic's Sultan Strings, as well as two exclusive value bundles, including the newly released Sultan Strings library.
Released this week, 'Sultan Strings' is a massive collection of string ensemble performances focusing on live performances by one of the world's best Middle Eastern string ensembles and royalty free custom composed Arabian styled phrases.

3 violins, 1 viola and 1 cello make up this strong and convincing performance sampling string ensemble. Working from the base up, Sonokinetic created a diverse collection of phrases that would need to be widely usable in music compositions and large audio productions, so tempo syncing and a wide availability in all keys was top priority in this production.

What's more Sultan Strings sees Sonokinetic investing in multiformats so the range of sampling possibilities is extended past the proven dedicated Kontakt format making this collection widely accessible for every producer and composer.
Sonokinetic value bundles
Sonokinetic Classical Bundle – If you're looking to increase your collection of classical samples but want to branch out from the norm, the Sonokinetic Classical bundle will prove a great first step whilst saving you over £50! Available to download ONLY from Time+Space, the bundle includes the brand new Sultan Strings plus Arpgeggio Concert Harp, Toccata Pipe Organ and Felt Force One for just £125.
Sonokinetic Ethnic Bundle – Sultan Strings is also included in the new Ethnic Bundle – a great value collection of authentic sounds from as far reaching countries as Africa, Israel, New Zealand, Egypt and beyond. This bundle saves you over £340 and includes Maasai, Tigris & Euphrates, Desert Voice, Haka, Voices of Israel and of course, Sultan Strings.
Sultan Strings is available from Time+Space for £66.95 GBP/79.95 EUR. The Sonokinetic Classical Bundle is available for £125 GBP/150 EUR, the Ethnic Bundle is £233.95/280 EUR. All prices RRP.
More information: Time+Space