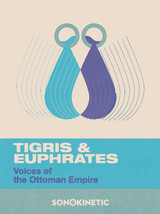 Sonokinetic has released Tigris & Euphrates, a vocal library for Native Instruments Kontakt.
It captures both the mysterious beauty from the female voice and the impressive magic of the Mesopotamian male voice. Whether you need to create an authentic Middle Eastern composition, or just add some spice and originality to any production, Tigris & Euphrates provides the necessary elements to set your music apart. These intriguing melodies and phrase improvisations will give you a broad range of diversity in your composition.

We've gone all the way and recorded all Middle Eastern melodic styles. It is available in all western contemporary harmonies. These melodic phrases, words , melody lines and many of vocal and Middle Estern sfx can easily be triggered and comes with a dedicated scripted interferface for Konakt 4.1.

Sonokinetic pushes the limit to capture a generic soundscape with a wide selection of user-friendly, easy to use collection of Middle Eastern vocal samples.
Tigris & Euphrates features
Core samples: 2 Voices; 1 male, 1 female. Ottoman empire / Mesopotamian styled sound chanting, singing, whispering, talking; phrases and elements.
16 instruments, 4 Multi instruments for Kontakt 4.1. with up to 5 tab screens – Main View, Convolution, Envelope, Scale Indicator and a credits tab.
Convolution reverb applied to all patches. 3 rooms available.
Envelope Editor: Attack, decay, sustain and release knobs.
Scale indicator: key zone linked. Generic harmony view with tone distances.
2750+ samples. (3,59GB sample content).
7 recorded vocal styles. The most commonly used melodic styles: Hicaz, Huseyni, Kurdili Hicazkar, Nihavent, Rast, Saba and Segah. These are applied to songs and chants.
Male folder: Chants & Songs in all keys, voice effects; whispered and spoken texts (ancient Mesopothamiam poems). Chants are wordless melody lines, Songs contain words.
Female folder: Chants & Songs in all keys, voice effects; whispered and spoken texts (ancient Mesopothamiam poems), special folder with traditional Kurdish songs and shouted words & sentences.
Environment ambiences. Live morning prayers recordings in a big Middle Eastern City.
Morning "Ottoman" city ambiences ("Istanbul waking up").
Song and chant patches programmed key switches linked to the harmony root. With corresponding interface views. Root harmony and scales are presented for each key zone.
2 Morphious sound artist patches. A handpicked set of the best vocal performances from Tigris & Euphrates, morphed, edited, analog and digitally remixed and remasterd by two professional sound designers.
"Mosque", an exclusive one of a kind original Imam recording of a live Holy Quran prayer inside a Turkish Mosque. Close/inside and outside effected edit recordings (bullhorn). These patches are the real deal. Sonokinetic is proud to present this as a special feature. A Modwheel crossfade between the clean and outside samples is also added.
"Zilgit", another very exclusive one of kind original Middle Eastern recording. Female traditional celebration shouts / yelling / singing.
Time stretching patches. (NKI + _time); all male and female chants and songs are available with pitch bend function to slow down and speed up the phrases and melody lines.
3 impulse responses: 24 bit wave format. Large Istanbul Dome Mosque, smaller dome mosque and Turkish empirical hall.
Inlcudes Historical and Musical Origins, manual (pdf). A musical theory about Middle eastern music specified to the makam style used in "Tigris & Euphrates".
Format: All files in 48 kHz, 24 Bit Wave, Programmed for Kontakt 4.1 (64bit).
Royalty and copyright free content license.
Tigris & Euphrates is available to purchase as a download for the introductory price of 59.90 EUR (regular 79.90 EUR).
More information: Sonokinetic / Tigris & Euphrates