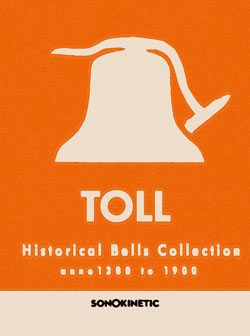 Sonokinetic has launched Toll, a collection of historical bells for Native Instruments Kontakt.
Way back when, when Sonokinetic was in its infant stage, we recorded two carillons and turned them into a simple kontakt instrument. Ever since, we have felt the urge to revisit that, and do it with the knowledge and experience we have gained over the past years. That time has come, and this time it is not just a carillon, but a large collection of different sized bells, from various periods and places of origin.

Each hit on these bells will spark a very unique and authentic sound that can only be generated by pure weight and age. Sonokinetic sampled historical valuable bronze cast bells as old as a 1000 years, proceeded through the ages of innovation in bell casting and tuning and ended in our time of hi-tech computer calibrated pitch perfect bells, and sampled all of those with great attention to detail, preserving their original tails of up to 30 seconds.
Toll features
1 patch Kontakt 4 and Kontakt 5, 4 Main Bell categories:

Carillons: two Carillons, played hard and soft.
Historical Bells Collection: 15 European Original Bells from 14th century to 20th century.
Silk Road Bells Collection: 13 South East Asian Ceremonial Bells 10th century to 19th century.
Tower Bells Collection: 3 Tower bells, including the Saint John's Cathedral bells.

4 matching Impulse responses "Chapel", "Cathedral", "Temple" and "Summit".
Kontakt Convolution Reverb.
Full Round Robin control. (Exclude, Freeze, Mark).
Sample Tail Control (Kontakt length adjustable).
3 Band EQ (Kontakt 4), 4 Band Solid-G EQ (Kontakt 5).
600+ samples. (3,3+ GB sample content) in wave format.
Royalty and copyright free content license.
All files in 48 kHz, 24bit wave format.
Programmed for Kontakt 4.2.4. & Kontakt 5 (Full verison only, not compatible with the free Kontakt Player).
The Toll library is available to purchase for 49.90 EUR.
More information: Sonokinetic / Toll