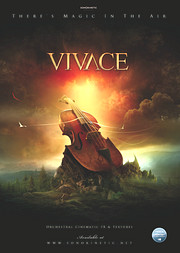 Sonokinetic has updated the Vivace cinematic orchestral fx and textures sound library for Kontakt to version 1.2.
We set out to match and then advance the full orchestral sampling line we began in 2011 with the ground-breaking and highly user-friendly composing tool, "Tutti". Where that package brought us the dark side, "Vivace" guides us through a magical and mystical land of inspired symphonic cinematic orchestral effects, patterns, atmospheres and moods.
Changes in Vivace v1.2
Memory Management: The interface now contains management buttons for each cue allowing you to purge the samples for unused phrases from RAM, freeing up system resources.
Adaptive Tempo-Syncing: The sample playback within Vivace's TMP patches can now adapt to any tempo changes in your composition, even in the middle of a playing cue. You can program any accelerando, ritardando or ritenuto effects you wish within your host sequencer and Vivace will keep to tempo automatically.
Intelligent Time Machine (ITM) Override: The ITM function syncs samples to half-time or double-time when extreme tempo values are used. This can now be turned off.
Jump In Phrase: You can now 'jump' between cues or variations on-the-fly without restarting each phrase by switching on the JUMP function.
Remixed Cues & Extras: Sonokinetic have remixed and corrected minor timing and balance issues with a small number of cues. Vivace 1.2 update also introduces a brand new patch, 'Tutti Sustains'.
Vivace is available to purchase for 199.90 EUR. The update is available at no cost for all registered Vivace users through the Sonokinetic website or the Native Instruments Service Center.
More information: Sonokinetic