Sonoma Wire Works has launched a new drum loop collection for the DrumCore 4 plugin by legendary drummer Bernard "Pretty" Purdie.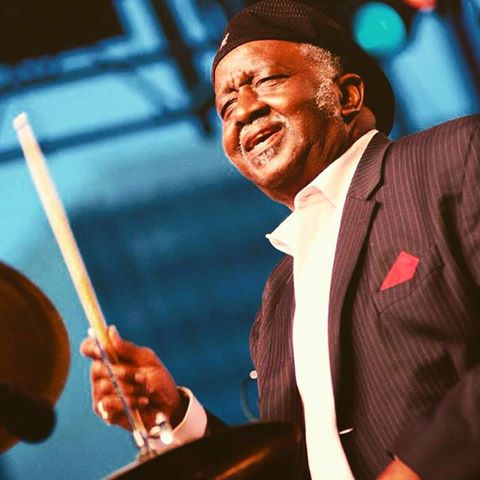 The world's most recorded drummer, Purdie is known for his signature "Purdie Shuffle," his precise timing, and the feel and attitude that he brings to the mix. Purdie has played and recorded with James Brown, Nina Simone, Aretha Franklin, Larry Coryell, Louis Armstrong, Dizzy Gillespie, Miles Davis, John Lee Hooker, B.B. King, Cat Stevens, Hall & Oates, Steely Dan, and many other well-known artists.

First in a series of Purdie GrooveSets for DC4, "BP Sweat" is triple-the-size of most GrooveSets, including 248 audio loops (534MB), for $14.99. Purdie's audio loops are 48kHz/24-bit stereo files recorded on the Pearl Custom Masters Drum Kit at Jankland Recording in New Jersey.

Purdie's multi-velocity sampled Drum Kit, and more new content by Purdie and other drummers are coming soon.
The DrumCore plugin was also updated to version 4.3, offering Purdie content previews and availability in DC4's store, filtering by time signature and feel, improved download management, and more.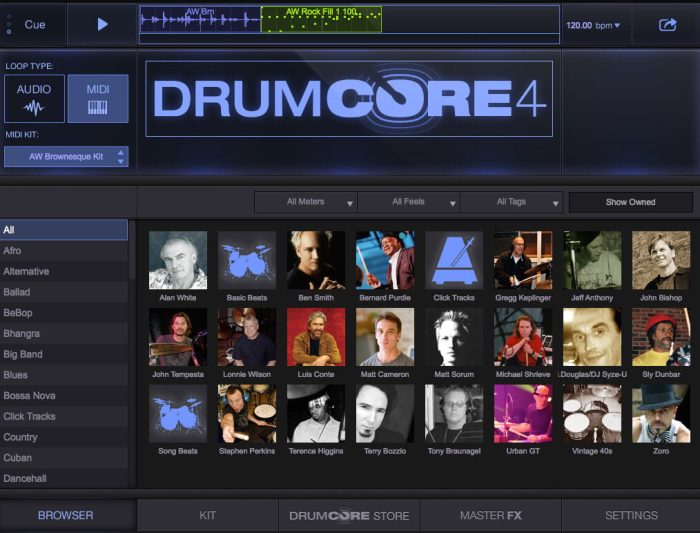 Along with Purdie's audio loop previews and availability in DC4's store, DrumCore's 4.3 update adds filters for quickly finding grooves. Adding to the existing search by Drummer and Genre, searching now includes Time Signature, Feel and various Tags.

The Time Signature Filter offers 17 choices including 2/4, 3/4, 4/4, 5/4, 6/4, 7/4, 9/4, 5/8, 6/8, 7/8, 9/8, 11/8, 12/8, 13/8, 17/8, 20/8, and 21/8. The Feel Filter includes 13 vibes: Shufflle, Shuffle Train, Straight 16ths, Straight 8ths, Straight Feel, Straight Quarters, Swing, Swung 16ths, Swung 8ths, Train, Triplet Feel, Triplet 6-8 Feel, and Triplet 12-8 Feel.

There are also 73 Tags for finding the right drums to match your song, like aggressive, cowbell, double-kick, laid back, and many more. For an entire list of Tags, Genres, Drummers, and more see the DC4 FAQ.

Version 4.3 adds a download activity monitor, improved content downloading, and adds the ability to download all owned content with one click. Other 4.3 improvements and update instructions are listed in the release notes.
DrumCore 4 (VST/VST3/AU/AAX) is available in three editions, starting at $49 USD.
More information: Sonoma Wire Works / DrumCore 4