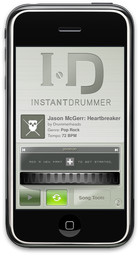 Sonoma Wire Works has announced the release of InstantDrummer, a new iPhone application for musicians on-the-go.
Easy to use, customizable drum loops for the iPhone and iPod touch. Pick a groove, tap in a tempo, and InstantDrummer inspires you to play along with continuously varying drum tracks using perfectly matched, full kit studio drum recordings.

InstantDrummer: Heartbreaker is first in a series of InstantDrummer iPhone Apps that will be available in various genres. Jason McGerr, the drummer for pop-rock band Death Cab for Cutie, recorded Heartbreaker on his signature Ludwig drum kit in his Seattle based studio, Two Sticks Audio.
InstantDrummer: Heartbreaker features
Adjustable Tempo: Originally recorded at 72 BPM, and still sounds great above 150 BPM.
Part Sequencer: Build and arrange drum tracks for InstantDrummer songs.
Gain: Adjust how loud your drums will be on each part of your song.
Three Levels of Real Room Ambience: Select from Full, Medium, or Off to get the perfect tone for your song.
Intensity: Control how hard the drummer is playing on each part of your song.
Variation: Adjust how often the drummer will fill on each part of your song.
Master FX – Freakenzy (EQ) and The Slammer (Compressor): Effects include a 4 band parametric EQ and a stereo linked compressor with Threshold, Attack, & Release.
130 MB of pop-rock drum recordings by Jason McGerr.
11 Song Parts to choose from, including Basic Rock, Bigger Rock, Ride, Ride-on, Sparse to Meaty, Kick and Hat, Crashes, Lead-ins & Endings.
43 loops and fills.
Wi-Fi Sync InstantDrummer songs to computers with or without a router.
FourTrack multitrack recorder integration coming soon.
InstantDrummer: Heartbreaker is available from the iTunes App Store for $.99 USD.
More information: Sonoma Wire Works