Sononym has announced an update to the Sononym sample browser software for Windows, Linux and Mac.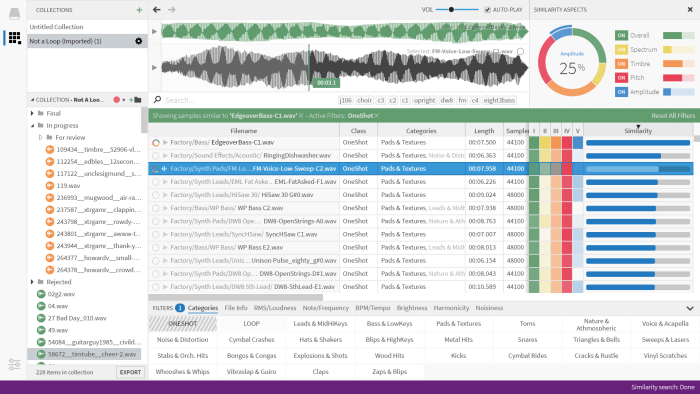 Version 1.2 features a number of stability improvements and bugfixes, with a few oft-requested features thrown in as well.
Sononym is a sample browser that organizes your sounds using machine learning, and allows you to explore how these sounds are related to one another. We refer to this as similarity search – a special, audio based search mode that even allows you to record sounds in realtime and get immediate feedback.

The software has been built from the ground up to facilitate this special search mode. Our plan is simple: refine the software based on the feedback we receive, and bring the experience to even more platforms.
Changes in Sononym v1.2
Modernized Internals.
Improved Text Search (Synonyms).
Additional Filename Columns.
More Configurable Collections.
Faster Audio Previews.
Smooth Scroll on Touch/Trackpads.
Improved Drag-Drop on Windows.
Other Tweaks and Bugfixes…
AS part of a Black Friday Sale, licenses for Sononym are available at a 50% discount between November 27th and until December 7th, 2020.
Use coupon code BLKPRICE20 at the checkout to get the discount.
More information: Sononym