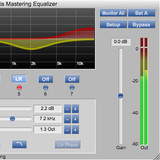 Sonoris Audio Engineering has released the Sonoris Mastering Equalizer (SMEQ), a parametric equalizer effect for Windows and Mac.
It has selectable linear phase or minimum phase operation per band. The plugin is suitable for mixing and especially mastering and features 7 bands, including lowpass, highpass, peaking and shelving filters.

The SMEQ can be used to enhance or correct difficult material like vocal or instrumental soloists and groups, orchestral recordings and complex mixes, without introducing any unwanted coloring. The linear phase implementation of the SMEQ ensures a transparent character and just boosts or cuts a frequency range without adding a "sound". It doesn't smear transients or create mud, nor does it alter the imaging and depth information of the original sound. This way it is possible to boost or cut more than with a conventional equalizer without any of these negative side effects.
Sonoris Mastering Equalizer features
7 band parametric linear phase equalizer.
Selectable linear phase or minimum phase operation per band.
Lowpass and highpass filters up to 48 dB/octave.
Peaking and shelving filters.
Stereo, L, R or MS processing and monitoring.
No pre-warping effects, that is, correct response up to Nyquist.
2x, 4x, 8x or auto upsampling for an even more accurate response.
Soft Engage technology to prevent switching noise.
Mousewheel support.
A/B comparison.
Large graphical display with dragable handles for maximum control.
Three zoom levels.
Scalable user interface.
High resolution level meter.
Full automation possible.
Settings can be saved.
64 bit resolution.
The Sonoris Mastering Equalizer is available to purchase for PC and Mac (VST/AU/RTAS) for 249 EUR.
More information: Sonoris