Sonus Dept. has released Ritual Kontakts, a sound library for Native Instruments Kontakt 5. The library focuses ritual instruments, like singing bowls, ethnic percussions, didgeridoos, strange strings and weird SFX.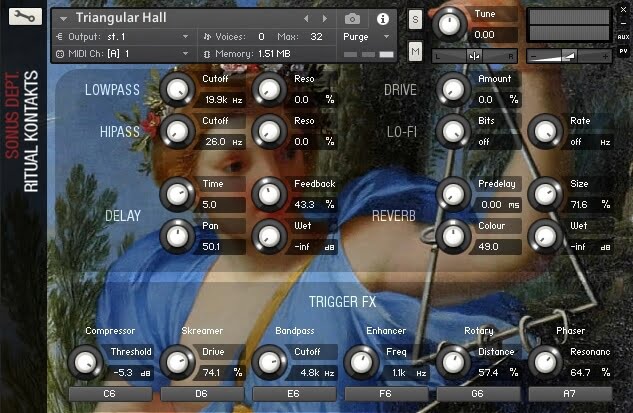 Ritual Kontakts features a complete range of sounds to build your own ritual music: ethnic percussions and drums, strings, didgeridoos, singing bowls, rainmakers, nature SFX and synthesized hypnotic sounds.

The aim of this library is not to provide you every conceivable instrument on Earth, but to give you an environment to experiment and to transorm any sound into your own one. Play with the many effects (all of them fully automatable) already featured within every patch and create your signature sound with a few spin of knobs. You will never end with a "preset sound", but rather with a variation that is truly unique.

Ritual Kontakts will please a very diverse audience: soundtrack composers, ambient musicians, sound designers, devoted to ethnic music and every artist willing to add a touch of eerie feeling to his/her music.
Ritual Kontakts features
27 Patches featuring acoustic instruments, chromatic percussions, ethnic drums, exotic soundscapes, a wide drum kit and more. Every patch features different variations and pitches of the instrument.
The sounds are sampled at 96 kHz / 24-bits and the patches have custom GUIs and several effects at hand.
Every parameter is automatable within the host.
Ritual Kontakts for Kontakt version 5.6 or higher (full version) is available for purchase for 15 EUR.
More information: Sonus Dept. / Ritual Kontakts