Sony Creative Software has announced new versions of its consumer software product line, which includes music creation and mixing software Acid Music Studio 8, and Sound Forge Audio Studio 10, an audio editing and production software for Windows.
ACID Music Studio 8 provides users with a comprehensive toolset for music and mashup creations. There are several new features, including an audio and MIDI mixing console, enhanced remixing tools, and exclusive élastique Pro timestretching tools that add more options to ensure users are limited only by their imaginations when producing original music projects. The leading software application in multitrack, loop and beat matching functionality, ACID Music Studio 8 now comes with over 3,000 high quality music loops and includes the Studio Devil™ British Valve Custom guitar amp, as well as the TruePianos™ Amber Lite piano plug-in. You can also upload your project to the ACIDplanet.com social networking and music website directly from within the interface.
New in ACID Music Studio 8
Audio and MIDI Mixing Console: The new Mixing Console provides an integrated view of all tracks and busses in your project with the appearance of a traditional hardware-based mixer. The look can be customized to provide you with the best view of even the most complex session. The new audio and MIDI Mixing Console has additional routing options, allowing for a more flexible and efficient studio recording environment.
Zplane élastique Audio Timestretching and Pitch Shifting:, Zplane élastique Pro technology allows users to perform dramatic time stretches and pitch-shifts of Beatmapped tracks while retaining maximum sound quality.
Enhanced remixing tools: For remixing your favorite songs, only ACID Music Studio software has the Beatmapper tool. This feature automatically finds the tempo of a complete song, making it easy to remix songs with different beat structures. New markers in ACID Music Studio 8 allow you to Beatmap songs with varying tempos and time signatures.
Cross-Track Event Drag and Drop: This new feature allows users to easily create mixes by simply cutting, copying, or pasting events across multiple tracks for faster editing.
Sound Forge Audio Studio 10 offers professional tools for mastering audio projects with ease.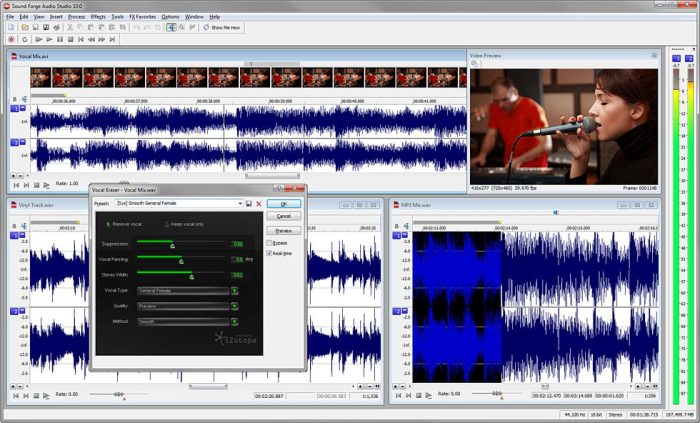 The new workflow enhancements, including floatable/dockable windows, improved maximum audio bitrate, and enhanced vinyl restoration wizard, enable users to record audio, edit, and master with pro-level control. The software is perfect for anyone wanting to record, edit, and convert audio from almost any source. Prepare audio files for export to the PSP®, iPod®, iPhone®, and burn audio to CDs or create files for the Web.
New in Sound Forge Audio Studio 10
Enhanced Vinyl Recording Wizard: Advanced automatic track detection and editing in Sound Forge Audio Studio 10 now makes it easier to convert vinyl and cassettes to digital files. These new features allow users to adjust the start/end times of tracks and fine-tune adjustments prior to CD burning or converting to MP3 for digital conversion or archiving.
24-bit/32-bit Float 192 kHz Audio Support: Sound Forge Audio Studio 10 supports 32-bit IEEE float bit-depth and 192 kHz sample rate so users can work with the highest audio resolution for superior sound quality.
Customizable Window Layouts: Users can create and save multiple layout configurations, and easily recall a window layout for specific editing tasks for a more personalized editing process.
Floating Window Docks: Windows can be docked and grouped within the Sound Forge Audio Studio 10 interface in order to customize the environment to fit the particular way a user prefers to work.
ACID Music Studio 8 and Sound Forge Audio Studio 10 for Windows PC are now available to purchase for $69.95 USD each.
More information: Sony Creative Software