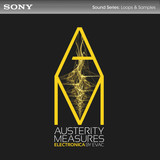 Sony Creative Software has released Austerity Measures: Electronica by EVAC, a new sample pack by Jeremy Goldstein (EVAC) at Quadrant 5 Studios/Haptic Audio.
Featuring IDM, electro, and ambient flavors, Austerity Measures: Electronica by EVAC is a complete construction kit informed by the best electronica of the last two decades.

The keen listener will detect the aroma of early Warp-era classics — clean, cold lines played on warm-sounding synths, hirsute sonics and spiderweb intrigue, drones, 'scapes and background noises, and the watermarks of all the most sophisticated electronica of that time. But waxing nostalgic for a second is only a short phase of the creative process, a stepping stone to quickening your own creative pulse using all the royalty free loops and samples contained in this very satisfying collection of nearly 700 royalty-free sounds.

Created by award-winning producer Jeremy Goldstein at his own Quadrant 5 Studios, Austerity Measures is a great production tool for making music ranging from pared-down electronic joyrides, to soundtracks for nearly any kind of media presentation.
Austerity Measures: Electronica by EVAC is available to purchase for $39.95 USD.
More information: Sony Creative Software