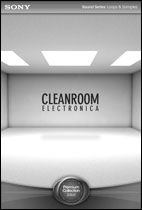 Sony Creative Software has released Cleanroom Electronica, a new sample library by Jeremy Goldstain of EVAC.
When Quadrant 5 Studios entered the Sony Sound Series catalog with Austerity Measures (2010) we knew this was only the beginning — libraries of this caliber always leave a thirst for more, and the process of creating it left producer Jeremy Goldstein with a substantial backlog of unexpressed ideas. These ideas are now made manifest on cleanroom electronica, a collection of sounds that raise Quadrant 5 to the Premium Collection tier in a spiraling assortment of loops and one shots that strike a perfect balance between synthetic and organic elements, structured and open-ended concepts, readymade music and isolated fragments, sustained moments and granular fragments.

A complete construction kit for building smooth and sophisticated electronica tracks, cleanroom electronica can flex and adapt to your changing working methods — produce complete pieces quickly using Quadrant 5 motifs, or go deep and explore electronica at the micro level to achieve truly unique results. With nearly one thousand royalty free sounds couched in just under a gigabyte of data, Sony invites you to enter the cleanroom at Quadrant 5 — a place where the next great idea is just a mouse click away.
Cleanroom Electronica includes 949 (987 MB) original, royalty-free WAV files. Price: $69.95 USD (list price $99.99 USD).
More information: Sony Creative Software