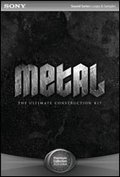 Sony Creative Software has released Metal: The Ultimate Construction Kit, a sample library geared towards metal music.
True to its name, Metal: The Ultimate Construction Kit is a fully-formed, meticulously edited collection that leaves no stone unturned. A superb addition to our Premium Collection line of 2CD/24-bit titles, this tortured treasury of sound features seriously gristled guitars and basses, pummeling drums, guttural vocal spasms, and all the mandatory sonic accoutrements of the genre, including flexible drum mixing options that will take you deep into serious metal production. Recorded in one of Vancouver's premiere studios and performed by hardcore practitioners, Metal is premium grade fuel for ACID software and every DAW that imports WAV files.
Metal: The Ultimate Construction Kit features
More than 1.2 gigs of royalty-free music and sound
(1115 original, royalty-free WAV files).
Detailed liner notes and sample information, photos, and an exclusive video.
Metal: The Ultimate Construction Kit is available now for $69.95 USD.
Visit Sony Creative Software for more information and audio demos.