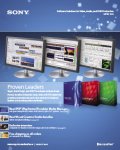 The Sony Media Software catalog contains information about Sony's full line of multimedia creation and production tools, including complete product descriptions, helpful comparison charts, software specifications, and user profiles.
The Sony Media Software catalog features top-of-the-line software for digital audio and video creation, editing, and delivery. It includes professional tools such as ACID® Pro, Sound Forge®, and Vegas® software, as well as our acclaimed Sony® Sound Series: Loops and Samples, Vision Series™, and Sony Pictures Sound Effects™ content collections.
You can download the Professional Video and Audio Software Solutions Catalog (PDF) or order a copy by submitting this form.