Plugin Boutique has launched its first ever bundle created exclusively for sound design.
The Sound Design Bundle comprises three industry-leading products developed for creative sound design, experimentation and audio restoration.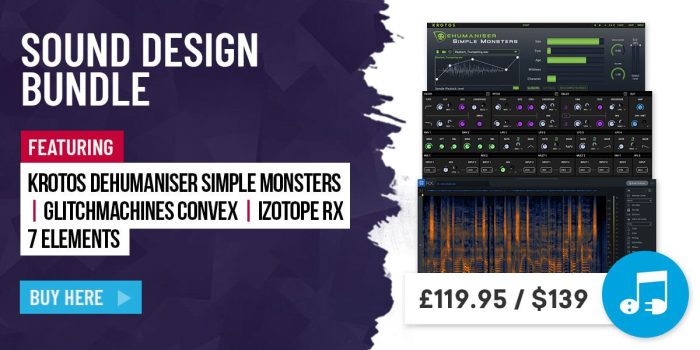 Whether you're a musician searching for fresh inspiration or a seasoned professional working in post-production, the Sound Design bundle contains all of the key tools you need to tackle any sound design situation.
Dehumaniser Simple Monsters from Krotos is a powerful, streamlined tool for processing any vocal sound. Utilising the 5 main parameters of Size, Fury, Age, Wildness and Character, Simple Monsters is perfect for designing a huge range of vocal sounds for your project.
iZotope RX 7 Elements is the leading tool for audio restoration, offering essential tools for removing noise, clipping, clicks, and other problems in your audio with ease and speed. RX 7 Elements now features the revolutionary Repair Assistant, iZotope's assistive audio technology that immediately identifies and eradicates issues in your audio, all at the touch of a button.
Glitchmachines Convex is a multi-effects processor that uses a multimode filter, pitch shifter and delay facilitate to create contorted artifacts, syncopated patterns and skewed digital textures.
The Sound Design Bundle is exclusive to Plugin Boutique and available for a limited time only, priced at £119.95 GBP / $139 USD.
More information: Plugin Boutique