Sound Dust has announced the release of Cluster for Zebra 2, a collection of over 240 presets for the Zebra 2 software synthesizer by u-he.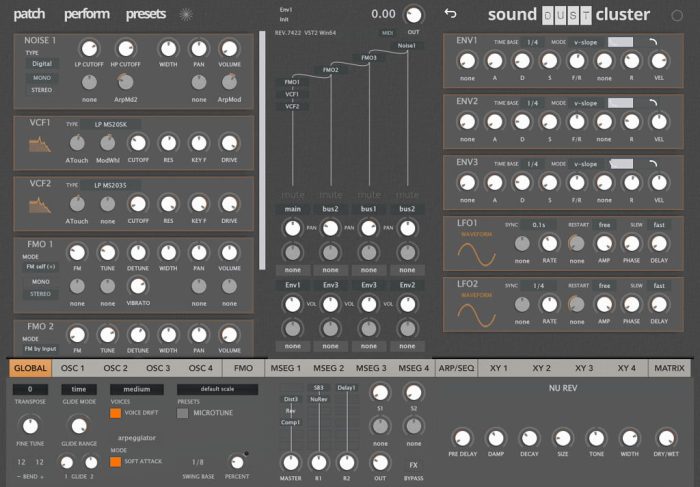 U-He's Zebra 2 is a powerful semi modular soft synth with almost too many sonic possibilities under its hood.

CLUSTER is a collection of 246 presets made from a series of radically different synth architectures each pushed to its limits to produce small families of amazing sounds.

Stunningly beautiful slow organic pads, deep complex basses, chaotic and viscous throbs, FM and analog drumkits, dusty modelled keyboards, warped alien leads, glorious dissonant evolutions and arps a plenty.

CLUSTER isn't aimed at any specific genre – although it does carry the strange and beautiful Sound Dust dna of other instrument designs – CLUSTER is earfruit intended to trigger and inspire new musical thoughts and sonic inventions.
The soundset includes a bespoke Sound Dust skin for Zebra 2.
Also available is the Cluster Earfruits sample pack, a collection of 1,600 themed loops and some 400 one shot drum hits, including kicks, snares, hats and percussion.
Both packs are £35 GBP each, or get them bundled for £55 GBP. You can save 20% on the purchase of the Cluster packs with coupon code KARLPOPPER at the checkout. The offer expires September 30th, 2019.
More information: Sound Dust