Sound Dust has announced GrandThrift autoHarp², a virtual instrument library for Native Instruments Kontakt.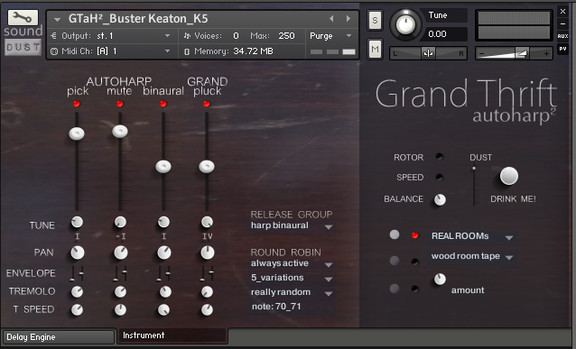 GrandThrift autoHarp² is what happens when you mate a tiny autoharp with a full sized grand piano. She's an impossible hybrid instrument with four different string layers that create unique pianoish, plucky, autoharpy sounds.

This strangely beautiful offspring weighs in at a fairly hefty but graceful 380mb and contains 4 separate and individually adjustable layers of multi-velocity samples from every note of both instruments.
GrandThrift autoHarp² features
4 different sound articulations: picked autoharp, palm muted autoharp, binaural autoharp, binaural plucked grand piano.
Multisampled with up to 4 velocity levels.
Advanced architecture with automatable control of volume, octave tuning, pan, volume envelope, tremolo and delay per voice.
69 specially created convolution reverb impulses recorded from real spaces, expensive hardware, and some less obvious sources including a Roland Space Echo, Lexicon reverb and the stage of Glyndebourne opera house.
Leslie effect, cabinet modelling and morphing EQ.
Selectable and adjustable release group.
Round robin sample swapping for extra realism.
MIDI timing jitter for even more realism.
19 "starter" presets in Kontakt 4 and 5 format.
A handwritten manual.
GrandThrift autoHarp² is available to purchase for £20 GBP. The update is free for previous users. Full version of Kontakt 4 or 5 required.
More information: Sound Dust / GrandThrift autoHarp²