Sound Dust has launched its new Kontakt instrument library StringPool, featuring beautifully played clean and brutally textured violin bowing with BPM synced modwheel speed control.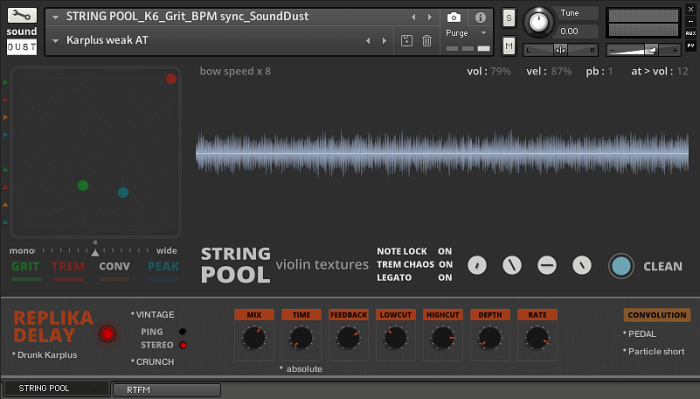 The design process of STRINGPOOL meant forcing virtuoso violinist Sophia Bartlette into many painful days of tortuous sampling (nobody really enjoys sampling – don't ever let them make you think otherwise). While I quietly slurped coffee Sophia teased hours of beautifully lyrical long bowed single notes from her 200 year instrument. For every note, four different bowing speeds with a hint of vibrato. She truly suffered for our art.

From these hours of recordings I created hundreds of seamless, clean single note loops and an alternative set of 'treated' samples mangled through tape, valves and Sound Dust malarky.

Then it was all poured into a complex Kontakt engine with a simple interface and wealth of expressive possibilities.
StringPool features
6 instruments (.nki) per Kontakt version:

BPM synced – Chorus, Filter and Grit.
Low CPU 100BPM – Chorus, Filter and Grit.

75 starter snapshots (total).
2 sample sets – Clean and Treated.
Classic Sound Dust RTFM instruction manual built into interface.
2.44GB download – requires a healthy chunk of computer RAM.
Versions for Kontakt 5.8 and Kontakt 6.1.1.
The library costs £40 GBP. You can get 20% off with coupon code POOL20 at checkout until July 14th, 2019.
More information: Sound Dust