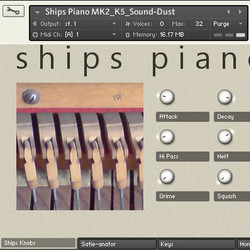 Sound Dust has announced the release of Ships Piano Mk2, an updated virtual piano instrument for Kontakt, which now includes the "Satie-anator" for instant Eric Satie-ness.
A ships piano is basically a tiny rudimentary upright piano with a five octave keyboard that folds upwards to save space. It has no bottom half and sits either on a low table or a stand with a small leather and chain contraption dangling from its bottom that loops around the foot for the sustain pedal. Because of its small frame size it struggles with low notes so the bass strings are very wide gauge and particularly flabby, resulting in a strange almost atonal metallic sound in the lower reaches.

The ships piano is no Blüthner or Steinway, and there's no chance of extracting rich sonorous tones, but its charming simplicity has lots and lots of useful character. Its very plinky without being too plonky.

Every usable white note is sampled binaurally for extra realism with 4 and sometimes 5 velocity layers for 155MB. Kontakt 4 and above (not Kontakt player).
Ships Piano Mk2 is available to purchase for £15 GBP.
More information: Sound Dust / Ships Piano Mk2