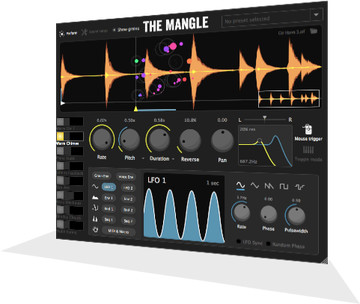 Sound Guru has announced a public beta of The Mangle, a granular synthesizer / sampler plug-in.
I've been fascinated by granular synthesis for years but I never found a satisfactory plugin to explore it – I wanted full automation in my DAW, preset recall, and tools to 'play' the stream of grains expressively.

So I built it myself. Or more accurately, I am building it myself. The Mangle is beta software, but if you want to help me test, you can buy at the discounted beta price.
The Mangle features
Animated granular display – Visualize your grain stream. Individual grains move across the waveform in real time. Amplitude, pitch and envelope are also represented.
Drag & drop modulation – Creating new modulations is easy – just drag the modulator to its target, then set the amount with in-place markers showing changes.
Resizable vector interface – The Mangle's interface is rendered dynamically as vectors – resize it with no loss in quality. Handy for live performance.
Dual sequencers – The Mangle is also great for making rhythmic patterns. A pair of sequencers can be used to modulate any parameter.
Multiband waveform display – Quickly and easily see where high, mid and low frequencies are in your audio, for clearer sound setup and tweaking.
Multi-timbral – Each instance of the plugin has 8 full 'slots' each with their own audio & parameters. Map them to any MIDI range for multi-timbral patches.
The Mangle is currently available for Mac only (VST/AU), for the discounted beta price of £19.99 GBP. A Windows version is coming soon.
More information: Sound Guru / The Mangle