Sound Guru has released version 0.8 beta of The Mangle, a granular sampler instrument plug-in for Windows and Mac.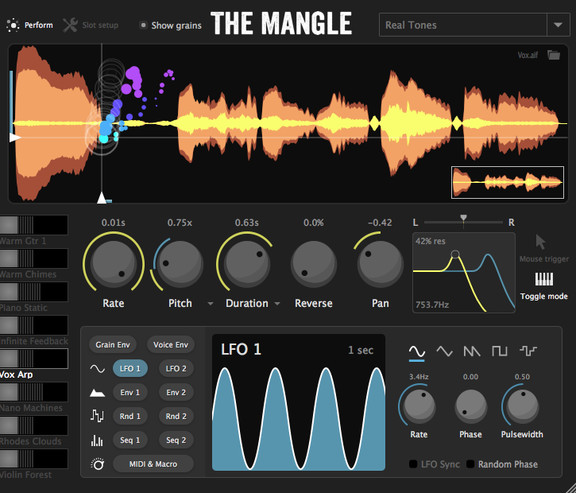 There's no better way to explore granular soundscapes. Fully automatable in your DAW, multi-timbral, and simple to use with drag-and-drop modulation.

Real-time animation of every individual grain, showing you what your sound is doing. Stretch a single note into a rich texture. Make organic effects that fizz and crackle. Shatter a synth sound into a thousand pieces.
Changes in The Mangle v0.8b
Minor layout redesign: settings now on tabs on main faceplate.
Modulations can now run 'via' another modulator, which modulates the intensity of the modulation.
Added "Loop" option (in Position tab) which allows you to set a region and speed over which the position will continuously loop. This is similar to setting a saw wave LFO to position, but comes with some improvements – e.g. can go slower, and 'wraps' back to the start of the waveform (rather than stopping at the end).
You can now set the folder in which to look for presets.
Lock icons on main parameters now only highlighted if a lock is active.
Fixed crashing bug when changing an LFO parameter by typing in an amount.
Copy/paste of sound slots etc. now works between different instances of the plugin.
Now dynamically resizes internal buffers if user has a buffer size over 4096 samples (before having large buffer sizes resulted in no sound or a crash).
Further improvements to workflow when samples are not found.
The Mangle for Windows and Mac (VST/AU) is available for purchase for the discounted price of £19.99 GBP while it is in beta.
More information: Sound Guru