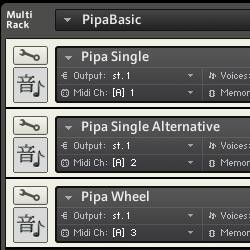 Sound Magic has announced the releases of a Kontakt 5 version of its Laurel Pipa Chinese instruments sample library.
The Pipa is a four-stringed Chinese musical instrument which has a pear-shaped wooden body with a varying number of frets ranging from 12-26, belonging to the plucked category of instruments. The Pipa is able to express a wide range of emotions. It can be bright and harsh when you need to portray battles or great tension. The Pipa can also melt your heart with it's warm expressive tones on sad songs or love ballads. Laurel Pipa gives you more than 10 expression controls, allowing an amazing range of expression.
Changes in Laurel Pipa for Kontakt 5
All Skills can be key switched now.
Combines PipaBasic and PipaExtend into one nki file.
Customized GUI, use the same background image as plug-in version.
Use compressed samples which save a lot of space.
Many minor changes.
The Laurel Pipa library is available to purchase for 99 EUR.
More information: Sound Magic / Laurel Pipa