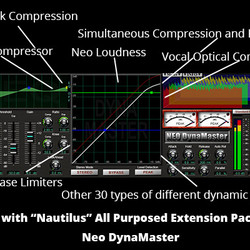 Sound Magic has announced the release of Nautilus, an all purpose extension pack for Neo DynaMaster.
This extension pack contain many types of dynamic processing for you to use, including simultaneous compression and expansion, Vocal Optical Compression, Drum Compressor, Noise gate, New York Compression, Auto Release Limiters, Neo Loudness and other 30 types of different dynamic processor. With this pack, you can release the full power of Neo DynaMaster and can find ideal dynamic processing in all cases.

Neo DynaMaster is a full-featured, multi-purpose stereo dual dynamics processor utilising a unique custom designed metering system and modelling engine, providing emulations of many vintage units, e.g. SSL, Tube-Tech and so on.

Neo DynaMaster performs simultaneous compression and expansion allowing more complex dynamics response curves than common compressors and provides huge scope to engineer your final sound. Neo DynaMaster's intuitive GUI allows you to precisely edit view the dynamics response curve which is essential if you want to take full control of your dynamic range.
The Nautilus extension pack is a free download for all Neo DynaMaster users.
More information: Sound Magic / Neo DynaMaster