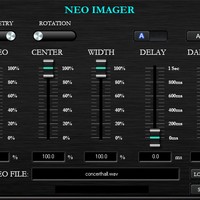 Sound Magic has announced Neo Imager, a hybrid stereo enhancer and imager effect plug-in for Windows.
Neo Imager is a hybrid tool which combines a Stereo Enhancer and an Imager. You can adjust both the stereo position of your music/tracks and enhance that stereo feeling as well. It is very useful when you need put an instrument into a different position, or make a mono recording "pop" into a stereo feel.

Neo Imager use a new technology which we call "Enhanced M/S Matrix", which enables you to rotate the sound, make it wider or put it into a deeper position. You can also add a delay effect and/or a natural damping effect to the sound, which really creates a natural stereo image.
Neo Imager features
Internal 64-bit floating point precision.
Innovative Enhanced M/S Matrix enables users to adjust stereo position with meticulous controls.
Innovative Partial True Stereo Convolution Technology adds realistic stereo feeling to your mono tracks, and enhanced the stereo feeling for current stereo tracks.
Delay and Damping effects enables a better position feelings.
A/B setting makes it very convenient to A/B comparison.
Support up to 32Bit/384KHz resolution.
The Neo Imager plugin (Windows VST) is available for 49 EUR.
More information: Sound Magic / Neo Imager