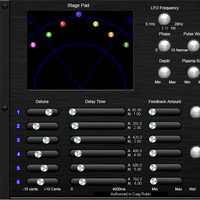 Sound Magic has announced Neo Plasma, a new concept in multi delay type effects.
Neo Plasma uses a Plasma Collision System to maximize the randomness of several parameters, creating a bigger and richer sound than is possible with standard FX boxes. Neo Plasma features a whole multi delay system which enables Neo Plasma to produce several kinds of effects, including:

Multi delay effect with feedback control and different modulation options that give it too many sound possibilities to list here. It can be a exciting modern delay FX one minute and a vintage delay effect with mellow and richer sound the next!
Multi tap effect.
6 voices Echo effect.
Chorus effect – but with our built-in modulation options, users can achieve a richer sound than other chorus effects on the market. Make their own unique chorus now!
Flange effect.
Many newly created EFX – Neo Plasma has a modular structure inside so it is possible for users to create new effects with different settings.

Sound Magic has made Neo Plasma easy to operate, too. Delay times AND note durations are completely in user's control. With our graphic control GUI, users can easily move the icons to their desired positions and Neo Plasma will calculate the panning and volume for them automatically.
Neo Plasma features
Internal 64-bit floating point precision.
Innovative Plasma Collision System.
Six modulated stereo delay lines.
Independent feedback and LFO with stereo phase shift control on each tap.
Over 20 modulation waveforms.
Support up to 32Bit/384KHz resolution.
Neo Plasma for Windows (VST/Supreme Piano 2 add-on) is available to purchase for 49 EUR.
More information: Sound Magic / Neo Plasma