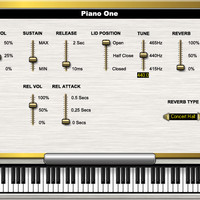 Sound Magic has announced the release of Pop Piano Collection 1, a sound library for the free Piano One virtual instrument.
Pop Piano Collection 1 consist of several presets specially designed for using Piano One in Pop Music. Collaborated with several pianist, Sound Magic chooses the best timbre color for pop music from thousands of timbre. By using this preset, not only you can obtain a modern pop piano sound for pop music, but also you can obtain a vintage pop piano sound appears in many great hits dating back to 1960s. If you frequently using piano sound for pop music, this collection is a must have you do not want to miss.
Pop Piano Collection 1 features
Pop Golden Age: A piano timbre similar like the style of Beatles and other great hits in 1960's.
80s Pop: A piano sound style that often heard in 1980's recordings.
Modern Pop: A clean, transparent piano sound of nowadays.
Note: requires Piano One for Windows version 1.3 or above.
Pop Piano Collection 1 is a free download.
More information: Sound Magic / Pop Piano Collection 1 (KVR Audio)