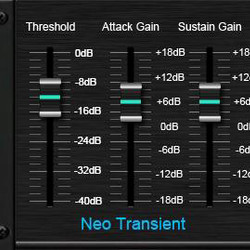 Sound Magic has released version 1.3 of its Neo Transient transient processor effect plug-in for Windows.
Neo Transient is a new concept for level independent dynamic processing. Unlike common compressors and limiters, Neo Transient reacts on Transients – those short peaks in the audio signal – rather than the overall signal loudness level. In this way, Neo Transient creates an entirely new way to process your tracks.

Neo Transient allows you to completely reshape the attack and sustain characteristics of a sound. You can shorten or lengthen the attack of all kinds of percussive signals, such as the bass drum, snare drums, toms, congas and so on, to give them more impact, change them to a punchier sound. Or go the other direction and make those sounds gentler than before.
Changes in Neo Transient v1.3
Improved Algorithm which process a slower attack signal.
Fixes an overload error occurs when signal level is fixed at certain range.
Better A/B Comparison.
Neo Transient for Windows (VST) is available for purchase for 49 EUR.
More information: Sound Magic / Neo Transient