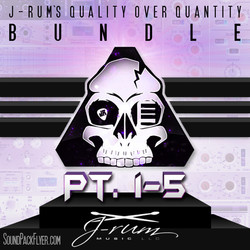 Sound Pack Flyer has announced J-rum's Quality over Quantity Bundle, a collection of 5 sample packs, featuring a total of 550+ sounds.
Get 5 of J-rum's QoQ kits in a low-priced bundle

Who is J-rum? J-rum has over 28 million soundclick plays. He now brings you access to his sounds!

Quality Over Quantity, by J-rum, features 5 of J-rum's Kits. These are geared towards trap, but have a touch of electro and pop to them!

We also have provided a bundle of just Pt. 2&3.
The bundle is available to purchase for $29.99 USD. Part 2 and 3 are available in a bundle for $19.99 USD.
More information: Sound Pack Flyer