Plugin Boutique has welcomed Sound Particles with a 20% discount on its sound design software.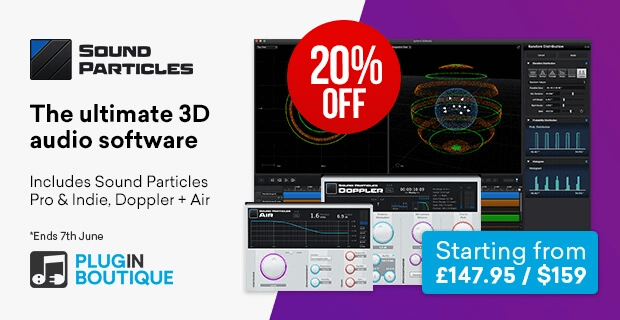 Sound Particles is a unique set of sound design software revered by post-production houses all over the globe. Using state-of-the-art 3D audio, you can create highly complex sounds on the fly for immersive cinematic audio. We welcome Sound Particles to Plugin Boutique with an exclusive 20% off, for a limited time only.
Doppler + Air is a bundle of professional audio plugins (AAX Native, AU, VST and VST3), which may be used for sound design and audio post-production. They are perfect for simulating the physical behavior of sound moving through the air, turning your mix into an incredibly immersive sonic experience.
Sound Particles is an audio software application capable of generating thousands (even millions) of sounds in a virtual 3D audio world. This immersive audio application will enable you to create highly complex sounds on the fly, which will ultimately enable you to create new sounds better and faster than ever.
Sound Particles has been nominated for an 'Outstanding Product' award by the Cinema Audio Society. The Sound Particles Pro edition includes the Doppler + Air plugins.
During the sale the software is on sale at the following prices:
Doppler + Air: $159 USD.
Sound Particles Indie: $319 USD.
Sound Particles Pro: $789 USD.
The offer expires June 7th, 2020.
More information: Sound Particles