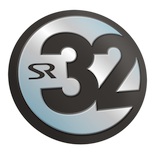 Sound Radix has announced 32 Lives, a 32-bit to 64-bit Audio Units plug-ins adapter for Logic Pro X.
In July 2013, Apple introduced Logic Pro X, the next-generation version of its professional audio software, bringing many new features and improvement, and updated user interface.

Moving forward with new technologies, the new Logic Pro X is a modern, 64-bit only application, which means that older 32-bit plug-ins will no longer work in Logic Pro X. Previous projects that were created in Logic 9 or earlier that include 32-bit only plug-ins, would not be able to fully open in Logic Pro X.

Enter 32 Lives.

32 Lives is a new application, capable of generating a 64-bit Audio Units versions of your loved and hard-earned 32-bit legacy plug-ins, helping you to cross-over to the new Logic Pro X smoothly and transparently. Older Logic Pro sessions will completely load into Logic Pro X, including all parameters and automation. No special re-wring or routing is required. All your 32-bit only plug-ins will again re-appear in the plug-ins menu as they always were.
32 Lives features
Creates 64-bit adapter plugin for your 32-bit only Audio Units plug-ins.
Transparently loads your legacy TC PowerCore, Abbey Road, URS and other plug-ins into Logic Pro X and other 64-bit only Audio Units compatible DAW's.
Fully compatible with older sessions, loads all presets, parameters and automation.
Ultra-low latency.
Includes a 32-bit plug-ins manager for easy plug-ins conversion.
32 Lives is currently in open beta and available for purchase for a discounted price of $69 USD (regular $99 USD) for the duration of the pre-release beta stage. All beta users will be upgraded to the full release version at no extra charge.
More information: Sound Radix / 32 Lives