Sound Radix has updated its Drum Leveler beat detection-based audio plugin that offers downward and upward compressor/expander and gate.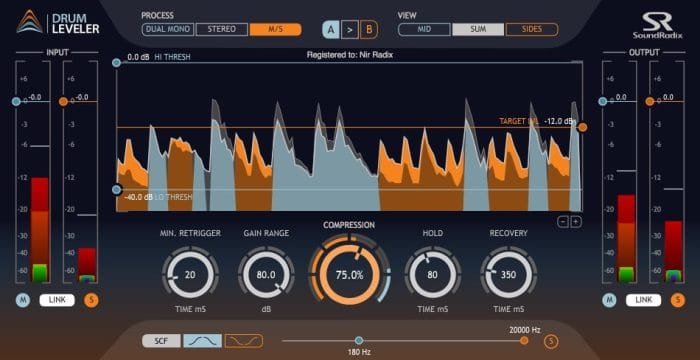 This update adds workflow improvements such as direct value entry, improved control mapping in Pro Tools, a new Settings window and more. Other improvements include bug fixes and CPU usage optimization.

Many of you who often travel between studios and need an easy mobility solution have requested that we support iLok activation. We're happy to announce that Drum Leveler is now iLok compatible! An iLok USB device is not required though, as Drum Leveler can be activated to your machine as well.
Changes in Drum Leveler v1.1.2
Drum Leveler uses iLok (no USB Dongle required!)
When Solo and Side-Chain are on, parameters apply to Side-Chain.
Improved meters decay rate.
Improved graphics synchronization with audio.
Native VST3 bypass is now supported.
Added support for entering numeric input in knobs.
Experimental: Added support for Audio Unit's high-resolution mode.
Pro Tools (AAX): Added support for automation key-combination.
Pro Tools (AAX): Improved control surface mapping.
Fixed denormalization performance issues. (VST2/VST3).
Fixed spectral metering not showing input and output respectively.
Fixed output level meters when using MS presenting post-MS instead of actual level.
Fixed Side-Chain issues for AAX under Pro Tools 10.
Fixed Side-Chain broken for RTAS in Stereo.
Fixed VST2 crash when inserted under Adobe Audition.
Fixed VST3 crash when inserted under REAPER 5.
Fixed copying stereo to mono window size under Cubase.
Fixed possible resizing bug on Samplitude.
Fixed minor cosmetic UI bugs.
Other minor fixes.
The update is free to all registered users of Drum Leveler. A free iLok account and an iLok License Manager is required.
More information: Sound Radix / Drum Leveler