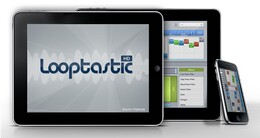 Sound Trends has released version 1.2 of Looptastic HD, a live remix app for iPad.
Create your own non-stop remixes in an incredibly intuitive way. Combine over 900 high-quality loops with your own imported samples — without stopping the music! Personalize your performance with 9 touchpad-controlled effects. Capture your moves and export them as CD-ready audio files.
Changes in Looptastic HD v1.2
Performance Tempo Control

— three fast ways to get in sync

Tap Tempo, the top user request, adjusts Looptastic HD's master tempo to help performers match other gear, songs, or musicians. Just tap the screen on the beat and Looptastic HD locks in.
Tempo Nudge buttons momentarily raise or lower Looptastic's tempo to ease the groove back into the pocket.
Direct Tempo Input enables the performer to input a precise tempo between 40 and 250 bpm (with 0.1 bpm resolution) using the iPad's large onscreen keyboard.

Reverse Playback

— add dramatic backwards sound effects to the mix

Looptastic's unique Scratch Strip now enables performers to reverse the selected loop instantly during playback for ear-catching variations.
The Loop Toggle button is now implemented as two larger buttons — Always Playing and Touch To Play — for enhanced scratch control during live performance.

Stutter Effects

— realtime sample-slicing is perfect for glitch and build-ups

Looptastic HD's X-Y effects pad now has three new rhythmic effects designed in collaboration with virtuoso performer Jordan Rudess. Like all Looptastic effects, these work on any or all of the three mixer zones.
Stutter Looped lets performers trigger and repeat sounds via the X-axis and warp pitch via the Y-axis.
Stutter Stepped adds stuttering effects based on note lengths (1/8, 1/6, 1/32, etc.).
Stutter Gate clips the mix rhythmically for a more percussive-sounding stutter effect.
Looptastic HD is available to purchase for the introductory price of $9.99 USD. The price will change to $14.99 USD on May 24th, 2010. The update is free for current Looptastic HD owners.
More information: Sound Trends