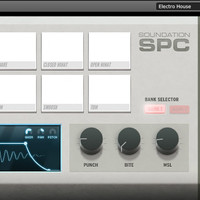 Soundation has announced the SPC, a new drum machine for Soundation Studio.
The online sequencer Soundation has just added an awesome new virtual instrument to its collection with the release of SPC, an 8 pad drum machine.

The SPC raises the bar for virtual instruments in your browser with 8 excellent kits. Included kits are Analog, Dubstep, Electro House, Hip Hop, Urban Box, Funk Latin, Pop Rock and Room Rock with a neat visually display that lets you control gain, cut and pan for each individual drum sound along with 3 knob controls: Punch, Bite and MSL (make stuff loud).

The SPC is part the free virtual instruments available in Soundation Studio. So get over to www.soundation.com and making beats now!
More information: Soundation