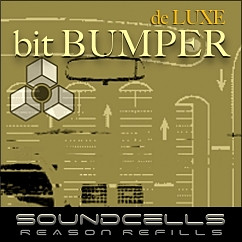 Soundcells has announced the release of bitBUMPER deluxe v3, the ultimate 4 and 8 bit Pandora Box filled
with hundreds of low bit surprises.
This ReFill is your best friend when you´re looking for inspiring new sounds with a character and a bite. To catch this character some amazing sources were sampled: RozzBox One v2, QuadraSID, the old grey Gameboy from 1989 with "Nanoloop 1" and "Littlesounddj", the Gameboy Advance SP from 2003 with "Nanoloop 2" and the Nintendo DS Lite from 2006 with "DS Electroplankton" and "Korg DS-10".

Version 3 adds new rex loops, 20 new combinator & 25 NNXT patches, as also lots of new samples …
bitBUMPER deluxe v3 features
382 combinator patches.
185 NNXT patches, 138 rex loops, 650 unique samples.
12 demo tracks in Reason format included.
bitBUMPER deluxe v3 is available for the introductory price of 27.90 EUR until September 15th, 2013 (regular 39.90 EUR).
More information: Soundcells / bitBUMPER