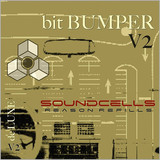 Soundcells has released bitBUMPER deluxe V2, the ultimate 4 and 8 bit Pandora Box filled with hundreds of low bit surprises.
This ReFill is your best friend when you're looking for inspiring new sounds with a character and a bite – it sounds cool, adventurous, nostalgically warm and noisy at the same time! To catch this character some amazing sources were sampled: RozzBox One, QuadraSID, the old grey gameboy from 1989 with "nanoloop 1" and "littlesounddj", the gameboy advance sp from 2003 with "nanoloop 2" and the nintendo ds lite from 2006 with "ds electroplankton" and "Korg DS-10". Version 2 adds some cool DS10 loops and many new combinator patches…

"bitBUMPER deluxe V2" is much bigger, even more fun to play with and it´s still your best friend when you're looking for "Quality LoFi".

Every "bitBUMPER deluxe" patch has been tweaked according to Soundcells´ current high standards of quality and all users will find that these new patches mingle and mix even better with eachother than before.
With bitBUMPER deluxe V2 the art of lofi has reached a new era!
bitBUMPER deluxe V2 features
360+ combinators (130 new ones since version 2) containing keys, pads, basses, leadsounds, FX, drums, bleeps, noises and percussion.
40 scream patches helping you to lofi your sound.
30 RPG-8 controlled rex loop patches, great for live gigs.
400 unique low bit samples.
160 NNXT patches, 126 rexloops.
Great for music in all styles.
bitBUMPER deluxe V2 is available to purchase for 49 EUR.
More information: Soundcells / bitBUMPER