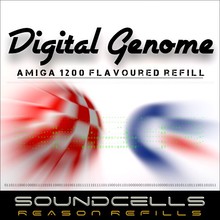 Soundcells has announced the release of Digital Genome v3, a ReFill featuring the sounds of the Amiga 1200.
In modern molecular biology, the genome is the entirety of an organism´s hereditary information. It is encoded either in DNA or in case of this fine ReFill it´s the AMIGA1200 encoded in Reason´s NNXT samples.

The AMIGA1200 with it´s 8-bit Paula chip was extremely popular among producers all over the world in the early nineties. "Digital Genome" picks up the thread where Soundcells left with "bitBUMPER deluxe" with it´s funky, housy and spacy lo-fi character! Warm, gritty, sleezy, dangerous and nostalgic are the keywords.

This ReFill can be used as a full workstation since everything the old Amiga had to offer is in there: basses, keys, lead synths, warm pads and enough drums and percussion to eat your heart out. And do not forget the wonderful FX section. The 200+ Genome combinators are conveniently built up with the right button functionality. Version 3 adds 25 new combinator patches, new NNXT patches as well as revised backdrops…
Digital Genome v3 features
203 combinator patches in 6 folders, great for many different styles of music: 36 Basses, 28 SFX, 43 Keys, 18 Leads, 27 Misc, 51 Pads.
208 NNXT patches containing the basic sounds which were used for the combinators.
230 original AMIGA1200 samples, 178 MB uncompressed.
21 fresh and great useable rex loops.
Digital Genome v3 is available to purchase for the introductory price of 19.90 EUR until December 1st, 2012 (regular 29.90 EUR).
More information: Soundcells / Digital Genome v3