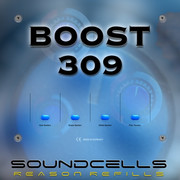 Soundcells has released Boost 309 v3, a ReFill based on the complete sample set of the vintage, lo-fi but charmingly sounding machine Rave-o-lution 309 by Quasimidi.
Soundcells have created 90 brand new combinator drum machines for you with these samples. It all ranges from the old original 309 thing to amazing and unique patches that could have never been created within the 309 itself. Besides cool beats and complex, crazy rhythms Boost 309 will offer you even more!

Version 3 is a huge update which adds 10 new combinator patches, 20+ 'Bitrman' flavoured rex loops making use of the original Rave-o-lution groovebox recorded thru an Alesis Bitrman fx unit, as well as 15 awesome Kong kits making use of Kong´s synthesis methods…
Boost 309 v3 features
120 combinator patches containing deep basses, great playable keys, surprising leads and awesome pads.
90 combinator drum machines: 45 basic setups with their 45 shuffled counter parts.
109 NNXT patches, 15 Kong kits, 22 Redrum kits and over 300 origianl 309 samples.
63 rex loops making use of the "Boost 309" drum machines as also the original machine (23 new in v3).
Boost 309 is available to purchase for the introductory price of 24.90 EUR until October 15, 2011 (regular 29.90 EUR).
More information: Soundcells / Boost 309