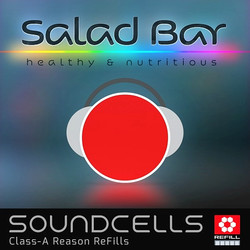 Soundcells has released version 9 of Salad Bar, the ever-growing ReFill.
Salad Bar is a magnificent collection of patches coming from the ReFill range Soundcells has to offer plus a Salad-Bar-Exclusive folder full of gorgeous combinators (currently 140 with version 9).

This ReFill offers patches in styles that ranges from analog to digital, subtractive to additive, lofi to hifi, atmospheric to experimentally & from retro to modern – it´s all in there!

In future many patches stemming from the upcoming ReFill range and lots of unique Salad Bar patches will also be added this product: Every time when a new Soundcells ReFill will be released, Salad Bar will get its next update!
Salad Bar v9 features
140 Salad Bar exclusive combinator patches.
222 combinator patches coming from all Soundcells ReFills.
344 well balanced patches for Thor, Malström, Subtractor, NNXT and ReDrum.
60 rex loops.
8 tracks in Reason format included.
The Salad Bar ReFill costs 9.90 EUR (includes a coupon code worth 9.90 EUR for future purchases).
More information: Soundcells / Salad Bar