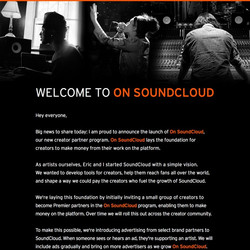 SoundCloud has announced On SoundCloud, a new creator partner program which lays the foundation for creators to make money from their work on the platform.
As artists ourselves, Eric and I started SoundCloud with a simple vision. We wanted to develop tools for creators, help them reach fans all over the world, and shape a way we could pay the creators who fuel the growth of SoundCloud.

We're laying this foundation by initially inviting a small group of creators to become Premier partners in the On SoundCloud program, enabling them to make money on the platform. Over time we will roll this out across the creator community.

To make this possible, we're introducing advertising from select brand partners to SoundCloud. When someone sees or hears an ad, they're supporting an artist. We will include ads gradually and bring on more advertisers as we grow On SoundCloud.

Everybody at SoundCloud is really excited about bringing this creator program to you. We often hear people say, 'I'm on SoundCloud'. Now we're happy to be able to offer even more for the millions of creators who have made it the best place in the world to share and discover music & audio.
More information: SoundCloud / On SoundCloud