Soundemote has released Flower Child Filter, a free filter audio effect plugin for Windows and Mac.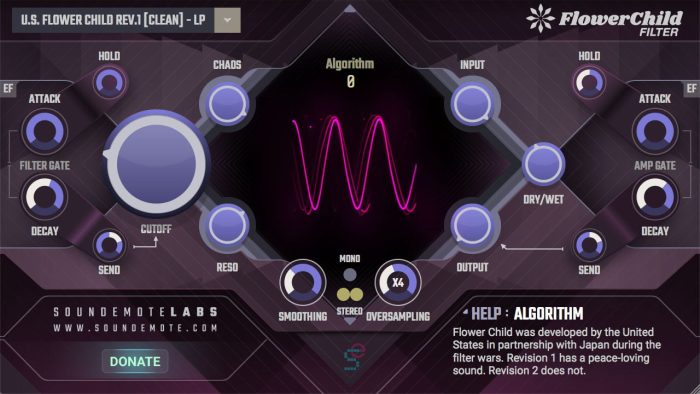 The classic analog-style filter comes with a clean/dirty switch, offering a both a clean and resonant sound as well as a more aggressive growling one.
Flower Child Filter is a lab experiment focusing in our future series of boutique analog-style filters F.M.D release. The goal is to have many unique filters with recognizable quirks that you can select from a simple dropdown list.

Flower Child presents two of the many filters we are planning on including on the final F.M.D release along with some experimental parameters that are very fun to use. Try it on drums, bass, buses, whatever! It will change your sound significantly with just a few tweaks.

The audio plugin also features two envelope followers to open and close the filter. And by turning the output to 0, the amplitude envelope will open and close the output volume fully, so that the filter is still musically useful when self-oscillating.
Flower Child Filter features
Clean and Aggressive analog style filter options.
Warm tube-like distortion by using "Clean" and setting Resonance to near 0.
Chaos knob to add internal instability.
Frequency and Amplitude envelope follower to open and close the filter.
Waveform/Oscilloscope view.
Stereo/Mono switch.
Up to 8x oversampling.
Dry/Wet knob.
Resizable Interface.
Over 20 factory presets.
The Flower Child Filter is available as a free download in VST and AU plugin formats.
More information: Soundemote