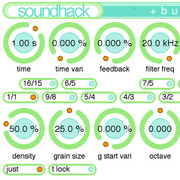 Soundhack has released Mac AU/VST updates of Delay Trio and Freesound, two bundles of free effect plug-ins.
SoundHack Delay Trio is a group of three plugins derived from the same basic delay algorithm: a hermite interpolated delay line with variable modulation, and a feedback loop with dc blocking and saturation. Pitch shifting is achieved with a dual head crossfading delay (ala Eltro Tempophon/Dennis Gabor/Pierre Schaeffer phonogene) and is decidedly low-fi. The saturating feedback also allows them to be great drone and noise generators.

The freesound bundle is a collection of vst/rtas/au, mac/windows plugins that i have developed while teaching at UCSD and CalArts.
Changes in Delay Trio v7.0
VST graphic offset fixed.
AU parameter update fixed.
+delay loses square modulation, gets more analog square modulation.
VST type collision fixed.
Occasional silence in delay fixed.
Changes in Freesound v7.0
AU parameter update fixed.
VST GUI offset for WaveLab7 fixed.
Exploding compander fixed.
Unresponsive AU in REAPER fixed.
The updates are now available to download from the Soundhack website. RTAS and Windows updates will follow.
More information: Soundhack