I am happy to announce the launch of the "Soundiron Iron Pack Contest", a music production competition in collaboration with Soundiron.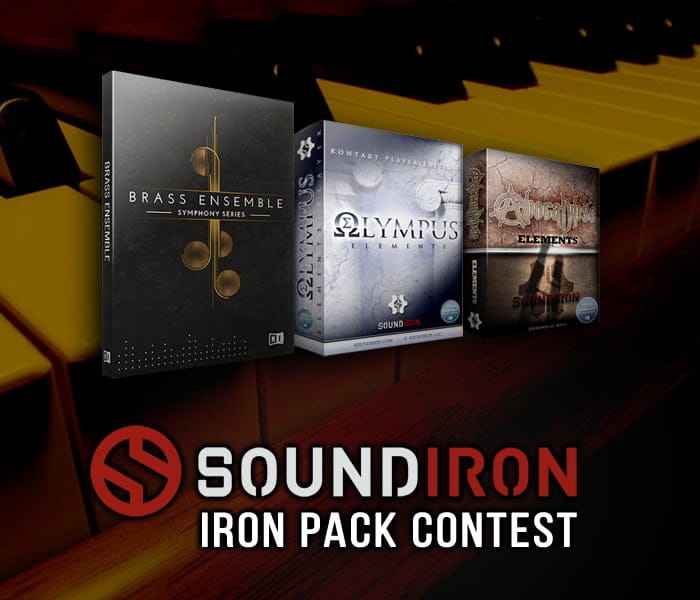 In this contest we are challenging you to create a piece of music from a single sound source, the Iron Pack #1: Grand Piano.
This pack is built on sounds cultivated from the Emotional Piano. With 100 MB of content, and 12 instrument presets for both Kontakt and SFZ, this handy kit offers a beautiful collection of atmospheric pads and mutated piano tones.

It features a 10 creative sustaining and tuned percussive banks hand-crafted by warping the raw source, plus a pair of lightweight low-memory acoustic grand piano patch to give a tiny, playable preview of our premier Emotional Piano.
Having limitations can really boost your creativity, so we are looking forward to hearing what you will come up with!
Soundiron is offering some fantastic prizes for this contest.
1st prize winner will receive a copy of Symphony Series Brass Ensemble, a Kontakt Player instrument featuring a massive 32-piece brass ensemble, with divisi Trumpet, Trombone, Horn, and Tuba sections.
2nd prize winner gets the Olympus Elements choral instrument library.
3rd prize winner takes Apocalypse Percussion Elements, a collection of aggressive scoring and concert drums and cymbals.
The deadline for submitting your entry is October 9th, 2015, 11.59pm CET. We will announce the winners shortly after. Please check the rules below on how to take part.
Good luck!
Ronnie
Contest rules
Send an email to soundiron@rekkerd.org to confirm your participation before Thursday October 8th, 11.59pm CET. Please include your first name and last name. We will send you a link to download the Iron Pack #1: Grand Piano.
Create a "naked" track with the Iron Pack only. The Kontakt version includes plenty of sound manipulation controls, the sfz somewhat less. You can use some EQ & compression to help your mix but otherwise no external effects or processing is allowed.
Upload your entry to SoundCloud and send us the link to your track before October 9th, 2015, 11:59pm CET. One entry per person is allowed, you will receive a confirmation of your submission.
Your entry should be composed specifically for this contest. By entering, you grant permission for your track to be published at the rekkerd.org website, through SoundCloud.
Prizes are granted at the discretion of rekkerd.org. Some prizes may be subject to specific conditions imposed by the sponsor (e.g. NFR licenses).
Contest rules subject to change.
Contest entries