Soundiron has announced the release of version 2.0 of its Glass Beach unique sample library for composers and sound artists.
Glass Beach combines experimental percussion and sound design with a complete oceanic soundscape library.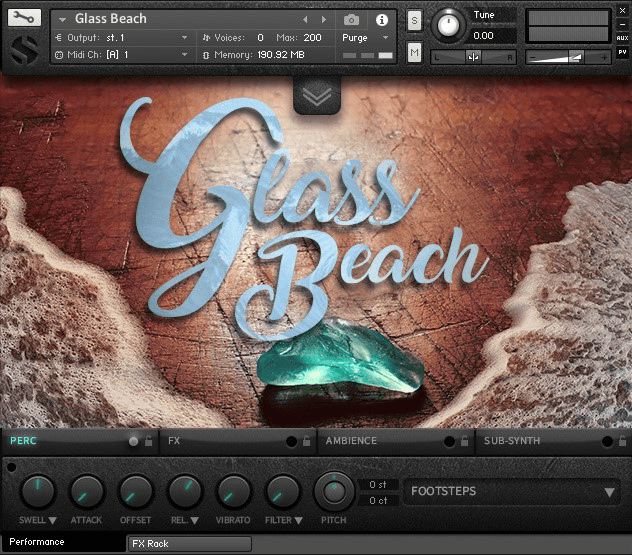 Glass Beach is a unique place on shore of the old village of Fort Bragg, in northern California. For decades the town dumped its trash into the sea, leaving heaps towering high above the waves. After years of clean-up, all that remained was broken glass too small to pick from the sand. The relentless years of tide and waves have turned this glass into something magical: A bejeweled beach covered in millions of smooth multi-colored glass pebbles. These little sea glass beads create a remarkably effervescent sound as they tumble in the gentle surf.
This latest edition adds nearly 2GB of new maritime ambiences from coastal, bay, marsh and estuary environments. You'll find crashing waves, lapping tide pools, busy wharfs, peaceful marshes, trickling waterfalls, drippy sea caves and even the strange "Wave Organ" sound sculpture. It includes a broad assortment percussive hits, taps, clicks, steps and scrapes, perfect for sound design and creative rhythmic composition. Lastly, Soundiron used various sound-design tricks to morph the sounds from their journey into tonal and dissonant pads, synth-tones, ambient dreamscapes.
Shape your sound with 4 independent sonic layers, or use any of the 20 custom sound designed fx presets to inspired your next film/game score or musical piece. A flexible modular interface and custom FX presets have been added to get your creativity flowing. Non-Kontakt users can use the wav files, which are unlocked and clearly named, organized and cataloged for easy browsing.
Glass Beach 2 features
2 master NKI instrument banks in open Kontakt format.
20 Custom Sound-Designed FX and Ambient presets.
Multi-sampled acoustic articulations, field recordings and atmospheric sound-design.
289 stereo samples.
2.73 GB Installed.
24-bit, 48 kHz Stereo PCM Wav Format.
Flexible and intuitive multi-layer user interface controls, with LFO, filter, glide, and arpeggiator.
Full FX rack with convolution reverb with custom rooms, halls, chambers & FX environments.
Glass Beach 2 is available now for only $19 USD.
More information: Soundiron