Soundiron has released Sick Volume 7, a sample library featuring creature and human combat voice-over kits, eerie industrial percussion and atmospheric horror and suspense sound design elements.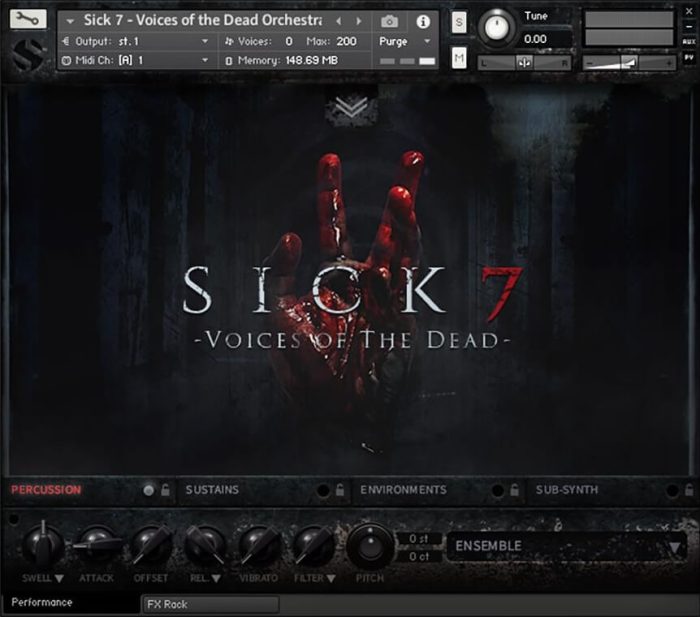 There are 6 unique creatures and 5 classic human NPC voice over sound-banks, each covering 38 important gameplay event categories with tons of variations. You'll find screams, deaths, falls, get-hits, growls, attacks, battlecries, taunts, jumps, evil laughs and so much more – all ideally designed for games, films, apps and animation.

The bunker percussion bank includes 27 deep, resonant metal impact percussion articulations, from rusted artillery anchor clangs and steel bulkhead gongs, to hatch hinge creaks and deep blast door booms.

Lastly, we've assembled a huge chorus of creatures to create our "Choir Of The Dead" and 13 distinct creature chromatic sustains. You'll also find various human and creature horde cacophonies and bonus ambient sound scapes.
Sick Volume 7 features
12 master NKI instrument banks in open Kontakt format.
25 Sound-Designed FX Presets.
6 creature combat/horror voice-over kits.
5 human NPC combat/horror voice-over kits.
Wide variety of 27 metal impact, scrape, slam, and squeak percussion sound sets with responsive dynamics & 8x round-robin..
Massive creature choir and 13 solo creature chromatic sustains.
Bonus soundscapes and ambiences. .
8,746 stereo samples .
5.16 GB Installed .
24-bit, 48 kHz Unlocked Wav Format.
Flexible & intuitive multi-layer user interface controls..
Full FX rack with convolution reverb with 100+ rooms, halls, chambers & FX environments.
Sick 7 is on sale for the intro price of $49 USD until November 6th, 2018 (regular $69 USD).
More information: Soundiron