Soundiron has introduced version 2.0 of Zitherette, a deep sampled zither instrument library that offers unique timbres, tons of sound shaping controls and 20 custom FX presets.
Originally released by Tonehammer, the Zitherette is a virtual instrument that you can use as a melodic color or use the FX presets to take your music to another dimension.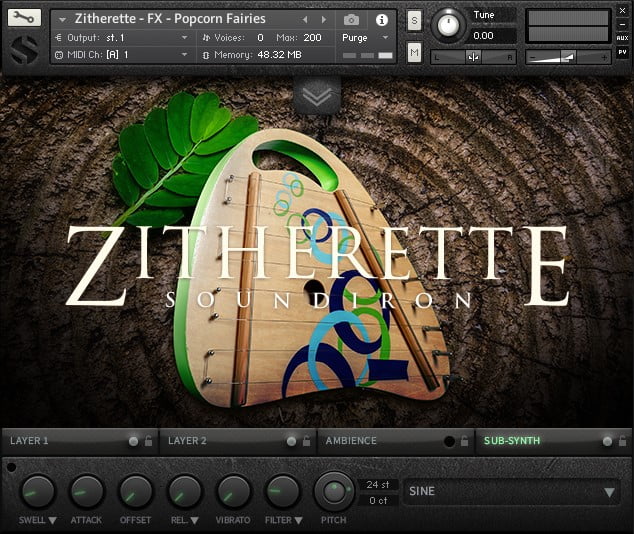 This instrument is a simple 8-string fretless zither, roughly 12 x 20 inches in size. Zithers are a broad family of hollow-bodied string instruments common throughout all of Europe and Asia. Variants range from the dulcimer to the Koto, with countless other flavors unique to each region and culture. Common to each of them is the arrangement of multiple strings over a hollow body. The oldest known variant of the zither family dates back to 4th century B.C China, while new additions continue to spring up to this day. Our particular hand-held zither has steel strings, with a smooth, dark tone, with a clean biting attack and long, natural decay. At it's softest, it has a pristine, almost harp-like sound, while the hardest notes bend deeply at the attack, with a pronounced twang.

The GUI comes packed with great sound-shaping features like swell, attack, release, offset, vibrato, filter, pitch (coarse & fine), articulation switching, cross-fading and layering and more.

There's also an Advanced window with LFO and Filter systems, with custom parameter routing, modulator targeting, step-sequencing and plenty of other control options to customize the sound to your needs. The ARP features a velocity sequencer and controls for direction, note-timing, swing, randomization and duration. The key and scale lock system allows for easy melodic composition and live performance when using the chromatic and atmospheric presets.

It's all rounded out by our modular FX rack window, with 18 different DSP effect modules that you can assign in any of 10 available slots, in any order that you wish. You'll find a wide selection of effects, amp and cabinet simulators and convolution reverb with a huge range of our own custom impulse response presets in a variety of real-world and stylized sound designed environments.
Zitherette features
758 MB Installed.
319 Stereo Samples.
21 Kontakt 5.5.2 .nki preset banks.
24 bit / 48 kHz uncompressed PCM wav audio.
20 Custom Sound-Designed FX and Ambient presets.
Multi-FX Rack and reverb with 119 room, hall and FX impulses.
Zitherette costs $29 USD. Until August 19th, you can save an introductory 40% off the library.
More information: Soundiron